2x ED Barlow Lens
The SkyWatcher Super DeLuxe ED quality 2x ED barlow lens has extra low dispersion to improve corrections and contrast over ordinary achromat optics.
The Barlow is inserted between the focuser and the eyepiece in the reflector, and usually between the diagonal and the eyepiece in the refractor or Maksutov.
With a number of telescopes it can also be inserted between the focuser and the diagonal, and in this postion provides even more magnification.
For example, a 2x barlow when inserted after the daigonal can become a 3x when placed in front of the diagonal.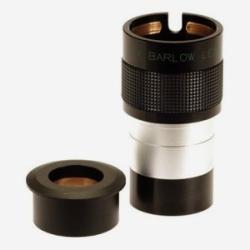 The lenses are fully coated and housed in a quality aluminium body with a rubber grip ring and safety cut 2" barrel to prevent slipping from your focuser.
The 2" eyepiece holder and included 1.25" adaptor are designed with a brass compression ring to securel hold eyepieces and protect the eyepiece barrel from scratches.
Great for use with 2" eyepieces to double the power but retain the eye relief and comfort, also well suited to imaging applications where higher magnifications are required.
If you're looking for an affordable way to achieve high-power viewing of the moon and planets, double stars and even close-up views of terrestrial subjects, a Barlow lens is the way to go.
---
Zhumell 2in 2x ED
The Zhumell 2in. 2x ED Barlow doubles the magnifying power of any eyepiece used in conjunction with it. ED optical lenses offer unparalleled image quality and contrast.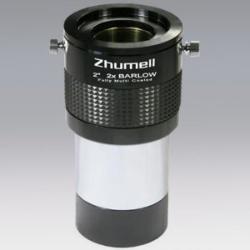 Many other manufacturers use standard optical glass in their Barlow lenses, an accessory which, if not designed correctly, can diminish the starlight which reaches your eye.

This doubles the power of any eyepiece it is used with without sacrificing light transmission.
Once you have used the Zhumell 2in. 2x ED Barlow, you will discover why it is such an essential part of any eyepiece collection.

It fits 2in. format telescopes and 2in. and 1.25in. format eyepieces. Compression Rings in both the 2in. format and 1.25in. format for protection of eyepieces.

Buttons will be added here
---
Telescopes Home Page

›
Barlow Lens

›
2x ED Barlow Lens