Skywatcher Telescopes
The range of Skywatcher telescopes are a good starting point for amateur astronomers, from the inquisitive beginner, to the seasoned stargazer who requires more highly developed optics and imaging platforms.
If you look through Skywatchers range of products, you will soon discover they offer an amazing choice of top quality astronomical telescopes and accessories, that are suitable for users of all ages and abilities.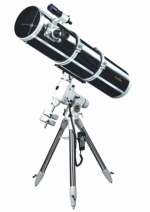 Combined with modern optical technology and precision mechanical engineering resulting in designs of superb functionality, versatility and uncompromising levels of performance.
Optics are as you would expect of the finest quality, and are suitable for a wide range of observing applications, from the 50mm spotting scopes up to 150mm (6") refractors, 200mm (8") reflectors, and 250mm (10") Dobsonians.
As with all Skywatcher telescopes you should ensure they are balanced before each observing session because doing so minimizes stress on the telescope mount and makes it possible for precise control for micro-adjustment. This is especially relevant when using the optional clock drive for astrophotography.
Skywatcher scopes have received rave reviews and recommendations from leading astronomy magazines, and we believe that whatever your interest, terrestrial or celestial, there is a Skywatcher that will more than likely exceed all your expectations.
Polar Alignment & Setting Circles
The quickest way to find objects is to learn the Constellations and use the finderscope, but if the object is too faint you may want to use the setting circles. This enables you to locate celestial objects whose celestial co-ordinates have been determined from star charts.
Your telescope must be polar aligned and the R.A.settingcircle must be calibrated before using the setting circles.
Tube Rings make for easy installation of the optical tube and can be loosened during use to allow for tube Rotation and balancing.

---
Skyliner DobsonianThe Skywatcher Skyliner Dobsonian telescope is a long time favorite of countless amateur astronomers.
Skywatcher ED80 Evostar
These high-end telescopes all feature a doublet objective lens. One element is made from premium Japanese Ohara FPL-53 Extra-Low Dispersion (ED) glass, which virtually eliminates chromatic aberration.
Skymax
In spite of their modest dimensions they still pack a powerful punch. Their High-Resolution optical systems are multi-coated to maximize contrast and image sharpness.
Skymax 90
Regardless of whether your requirement is for terrestrial or astronomical use, this compact telescope is ideal for the first time buyer.
Skywatcher Heritage
This Dobsonian Telescope is a highly functional precision optical instrument as well as a wonderful collector's piece
Skywatcher Equinox 66 OTA Telescope
Whatever your application, we're sure that Sky-Watcher Equinox refractors will meet and exceed your most demanding performance requirements
Skywatcher Equinox 80 OTA Telescope
The Equinox 80 is regarded as a good quality mid-level ED refractor that is capable of excellent astrophotography
Skywatcher Equinox 100 OTA Telescope
The Equinox 100 is an excellent mid-level ED refractor that is capable of excellent astrophotography and is capable of superb planetary views.
Skywatcher ED120 Black Diamond
Tight globular star clusters like M13 in Constellation Hercules appear like a beehive of crisp stellar pin points, star upon thousands of stars deep into the objects core.
Skywatcher Equinox 120 OTA Telescope
For astrophotography, this model features an f/7.5 focal ratio – more than speedy enough for today's sensitive CCDs and digital SLR cameras.
Skywatcher Explorer 130p
This scope is a superb option for anyone looking to upgrade from a beginner's scope.
Skywatcher Merlin Synscan
Even an inexperienced astronomer can master its variety of features in a few observing sessions
Skywatcher Startravel Telescopes are a very portable range of refractors telescopes that are excellent for astrophotography or nature photography
Skywatcher 150 PDS
A Dual-Speed 10:1 ratio focuser is now included for excellent focusing precision.
Skywatcher 200 PDS
This new Skywatcher Newtonian Reflector incorporates the same superb mirror-set as the Explorer-150P Black Diamond Series.
Skywatcher 250 PDS
The tube length has been slightly shortened on this model to optimise performance for prime-focus photography.
Skywatcher 300 PDS
This very large aperture high quality parabolic reflector Telescope will provide stunning views of Solar system objects along with Galaxies, Nebulae and clusters.
Return From Skywatcher Telescopes To Telescopes Home Page