Intes Micro Telescopes
Intes Micro Telescopes are manufactured by Intes Micro of Moscow who specialize in Maksutov-Cassegrain and Maksutov-Newtonian astronomical telescopes, which are geared towards the advanced amateur astronomer who is looking for the highest standards of equipment that it is possible to aquire.
These scopes are meticulously hand crafted by very skilled optical technicians to incredibly rigorous optical and mechanical specifications, whilst at the same time acquiring a first-rate reputation amongst the astronomical society for providing a variety of professional high quality products, that provide high performance, contrast and resolution imaging for the purpose of astrophotography.
The Intes Micro Maksutov-Cassegrain telescopes are exceptional for high power, resolution and lunar and planetary work satisfying the most discerning astronomer.
Their compact tubes make them especially practical to carry around and set-up.The Maksutov-Newtonian design brings together the very best characteristics from a Newtonian Reflector and a Maksutov-Cassegrain to create a telescope design that delivers genuinely spectacular image quality, much like those realized with Apochromatic refractors, but at just a fraction of the cost.
Alter M500
The Alter M500 is considered by many to be the ultimate when it comes to 5" F/10 Maksutov-Cassegrains, and is the preferred choice for high-end applications around the world.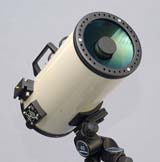 This scope Is the most compact of all the Intes Micro Maksutov Cassegrains and incorporates all of the best features of the larger models.
Additionally it is incredibly compact and portable making it the ideal traveling companion. You can easily turn the Alter M500 into a powerful instrument for deep sky photgraphy by using the optional focal reducer,which reduces the focal ration to f/5.5.
Specifications
Clear Aperture - 127 mm
Focal length - 1270 + 100 mm
Focal ratio - F/10
Back Focus - 30 - 220 mm
Photographic field of View - 10 54'
Tube diameter - 173 mm
Tube length - 370 mm
Tube weight - 3.4 kg
Max. useful magnification - 2x per mm aperture
Reflectitivity of mirrors - 95%
Central obstruction - 34%
Optical quality (for wave length 0.63 µm) - Minimum 1/6th wavefront error
RMS - 0.041
Body parts material - aluminium
Primary and secondary mirrors material - K7, LK5 (Pyrex) with reflective aluminium coating and SiO2 protected
---
Alter M603
Mirror surfaces have 95% reflectivity and Meniscus lens is multi-coated. Internal baffle rings.
Alter M615
The greatest advantage of this planetary telescope is in it's compact design.
Alter M703
Accepts both Intes-Micro and STF Mirage) eecompressors of 0.8x, 0.6x and 0.45x.
---