Televue Telescopes
Any time travel, practicality and instant setup are important to you, TeleVue Telescopes are an excellent choice.
Their 60mm, 76mm and 85mm telescopes are easy to transport, but don't be fooled by their size as they certainly hit above their weight.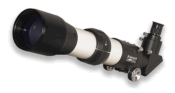 Each and every scope is built from beginning to end by just one technician with quality assessments at a number of critical steps in the process.
It was during the early eighties that Tele Vue launched its Plössl eyepiece design, winning international patents in the process, and many rave reviews from the media and consumers.
Along with superb eyepieces Tele Vue pioneered the multipurpose, diffraction limited, 4-element, fast refractor telescope as a serious, portable alternative to popular Newtonians and SCTs.
The Benchmark 4 inch, f/5.4 scope sets new standards in both wide-angle AND high power viewing.The present Tele Vue-NP 101 is probably the epitome of evolution.
With the NP101is and NP127is (5-inch aperture "Imaging System") versions, along with "imaging system" accessories, astro-imaging capability has reached new heights.
Beginners and experienced amateur astronomers will be amazed by it's versatilty and performance.
---
Televue 60
The complete package in standard figuration weighs in at just 3.3lbs and is a good scope for beginners and youngsters.
Televue 60IS
With a focal length of just 360mm (f/6), the Tele Vue-60is delivers a nice wide-field for these smaller chip sizes.
Televue 76
The expansive 5.5° rich-field sparkles with delicate jewel-like stars.
Televue 85
All air-to-glass surfaces in the Tele Vue 85 are multicoated to deliver high transmission and essentially eliminate internal reflections
Televue NP101
"The sharpest I've ever used" pronounced the editor of "Astronomy" in a rave review.
TeleVue Np101is
The NP101is telescope was designed to be as optically, mechanically, and functionally perfect as possibly for imaging up to 50mm diagonal chips without penalty to its near ideal visual operation.
TeleVue TV102
Overall the complete system provides about 202 times the light gathering power of the unaided human eye
TeleVue NP127is
The combination of materials and optical design provides diffraction-limited performance into the furthest reaches of the visual spectrum
TeleVue Accessories