Stellarvue Telescopes
Stellarvue Telescopes was established in 1995, and since then has produced several thousand medium to top end telescope refractors that are second to none in their price range.
Stellarvue is committed to introducing individuals to the night sky with a range of telescopes that are made in the United States using high-end Russian optics. These telescopes are individually made in Auburn California using advanced CNC equipment.
Stellarvue designs and handcrafts some of the finest refractor telescopes found anywhere and provides programs and experiences to foster a greater appreciation of our natural world and to encourage individual exploration of the universe.
Stellarvue ED Refractor Telescopes
Stellarvue designs and handcrafts the finest refractor telescopes for sale. Their range of ED refractors offer the best value in an individually made, high contrast telescope. Using hand figured, extra low dispersion glass, these doublet refractors outperform simple achromats by a wide margin.
Stellarvue Apo Triplet Refractors
Assembled and triple tested in their Auburn facility, using the finest extra low dispersion glass; these telescopes provide the pinnacle of performance with a perfect star test, reflector-like color correction and the highest contrast attainable.
SV Raptor 90T-1 Apo Triplet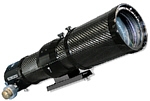 Stellarvue Telescopes SVR90 series is currently the top selling 90mm triplet apo refractor. It is 50% lighter than other 90mm triplets thanks to its Carbon Fiber tube. The 90mm f-7 apo triplet lens is made with FPL-53 optical glass.
This version comes with Stellarvue's latest 2" dual speed focuser and case. Its light weight allows it to be mounted on smaller mounts and makes it an excellent travel or guide scope.
It comes with dual mounting rings and the C14 hard case with deluxe heavy duty foam interior. The case holds the telescope and many options accessories such as our 2" diagonal and numerous eyepieces.
---
Stellarvue SV80ED
The hand figured, extra low dispersion doublet is triple tested and provides razor sharp, high contrast views.
Stellarvue SV80ED NHNG Deluxe
This is the premium version of the venerable Stellarvue 80ED Refractor telescope.
Stellarvue SV90T Apo Triplet
The high Strehl, apochromatic triplet objective provides extremely high contrast, and several extreme broadband coatings are used on all six lens.
Stellarvue SV102ED
This scope is powered by a 102 mm f-6.95 doublet objective lens made with an Ohara FPL-51 ED element.
Stellarvue SV110ED Refractor
The largest ED doublet refractor telescope in the range and uses a hand figured ED lens known for its exceptional image quality
Stellarvue SVR80ED Raptor
The hand figured ED lens provides extremely high contrast; several extreme broadband coatings are used on all of the lens.
Stellarvue SV105
This scope delivers stunning visual performance and photographic performance with cameras using an APS or smaller sized chip is excellent.
Stellarvue SV115T20 Apo Triplet
With reflector-like color correction and excellent contrast, this is the ultimate choice for observers to clearly discern fine planetary details.
Stellarvue SV115T35 APO Triplet
Designed as a stunning telescope with superior contrast and resolution. This telescope is preferred by visual observers who want to see more detail on the planets and in deep sky objects than a 4" telescope can deliver.
Return From Stellarvue Telescopes To Telescopes Home Page