Startravel 80mm Refractor Telescope
This high quality Startravel 80mm Refractor Telescope from Skywatcher provides spectacular views of the Moon and Planets, as well as wide field views of brighter deep sky objects.
This is an extensive package that is certainly a user-friendly and uncomplicated to setup to automatically track the night sky.
This scope is an extremely compact two-element, air-spaced, multi-coated achromatic refractor that is well known for rich field views of nebulae, star fields and bright galaxies.
As it is a wide-field, short-tube telescope and remarkably portable it is frequently used as a guide scope on more substantial telescopes, and it's "fast" focal ratio in combination with modern sensitive digital cameras makes it a good choice for taking images of lunar and solar eclipses.
Auto Tracking telescope is an advanced alt-azimuth mount which allows for automatic tracking of celestial objects devoid of all the ususal complex add-ons.
It can be used for astronomy as well as terrestrial applications. Astronomers will appreciate just how fast is is to set-up and how incredibly uncomplicated it is to use.
The SkyWatcher Startravel 80 AUTO 80mm Refractor Telescope is highly recommended for the newcomer to astronomy.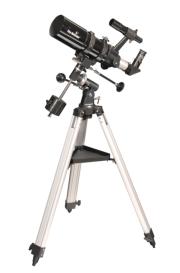 Specification
Single-Arm Alt-Azimuth Mount
Powerful DC Servo Motor
Hand Control to Command the Motor
Choice of 1x, 4x or 8x Sidereal Rate Speeds in Tracking on mode
Choice of 32x Slow, 64x Medium or 800x High-Speed Alt-Azimuth Slewing
North & Level Start Position for Astronomical Auto-Tracking Feature
Clear Latitude Scale
Magnifications (with optics supplied): x16, x32, x40, x80
Highest Practical Power (Potential): x160
Objective Lens Diameter: 80mm
Telescope Focal Length: 400mm (f/5)
Eyepieces Supplied (1.25"): 10mm & 25mm
X2 Barlow Lens
Direct SLR Camera Connection
Red Dot Finder
1.25"/31.7mm Star Diagonal
Multi-Coated Objective Lens
Auto-Tracking Alt-Azimuth Mount
Aluminium Tripod with Accessory Tray
---
Return From Startravel 80mm Refractor Telescope To Skywatcher Startravel Telescope Main page