Williams Optics FLT158 Triplet
The Williams Optics FLT158 Triplet APO f/7 Refractor with 3.5" Focuser was designed by a leading Russian optical designer and is of outstanding quality with remarkable clarity and color correction.
This telescope offers superb performance. Having a extremely generous 158mm aperture and f/7 focal ratio, the William Optics FLT158 APO was created for astrophotography.
Being fast, compact and incredibly versatile it will work wonderfully as an astrograph but can also be used for high power lunar and planetary observation as well as low power deep sky and rich field observation.
It really is optically unbeatable, featuring a custom designed top quality triplet air-spaced objective with FPL-53 glass. This telescope delivers extremely sharp images and has a great color correction making it just the thing for astrophotography.
The extra smooth 3.5" Crayford focuser is a treat to use during astrophotography with no more image shifting. It also has 360 deg. rotatable, extra-heavy duty and large aluminum knobs.
The patented design has stainless steel reinforcement inserts on both sides and on the back to allow heavy loading without problems.Ball bearings on both sides of the focuser will make your focusing experience the best you ever experienced with a scope!Graduated scale for precise camera alignment.
In spite of its 158mm objective, the scope remains extremely compact and solid. The focuser is really strong so there is no need for a locking screw. The two-speed microfocuser is standard on all units.
Pure William Optics quality fit and finish: powder-painted white CNC-machined aluminum tube, golden finish, retractable dewshield, anodized 360 deg. rotatable crayford focuser, dewshield cap and a highly precise CNC machined lens cell.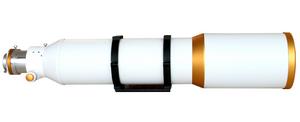 Specification
Aperture 158mm
Focal Ratio F/7
Focal Length 1121mm
Objective Type Air-spaced Triplet, Apochromatic objective
Lens Shade Retractable
Focuser 3.5" Crayford Focuser, rotatable design
Intergrated 1:10 fine focus
115 mm Focuser Travel Length
1.25" Adapter Provided
Type of Mount Mounting Rings
Tube Length 990mm (Fully Retracted)
1180mm (Fully Extended)
Tube Weight 15 kg
---
Return From Williams Optics FLT158 Triplet To William Optics Main Page
Telescopes Home Page