Skywatcher ED120 Black Diamond
The larger aperture of the Skywatcher ED120 Black Diamond telescope renders a remarkable increase in resolution and a improved sense of observing lunar and planetary surface phenomenon in seemingly 3D-like high definition.
Tight globular star clusters like M13 in Constellation Hercules appear like a beehive of crisp stellar pin points, star upon thousands of stars deep into the objects core.
In Deep-space, rich aggregates of stars within Galaxies, Nebulas, and open clusters appear brilliant contrasted against a very dark velvet black background.
The wispy, delicate, featherlike structure of dust lanes and extension of glowing gasses can be seen reaching out far beyond the object's core.
Metallic High-Transmission Lens Coatings
Each air-to-glass lens surface has exotic anti-reflection metallic coatings applied to ensure optimum light through-put of approaching 99.5%. The proprietary Sky-Watcher "Metallic High-Transmission Coatings" (MHC) are the finest photon anti-rejection coatings in their class.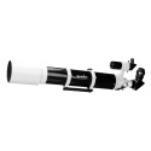 Light-Baffled Optical Systems
The objective lens cell is light-baffled to reject stray, unfocused light. The draw tube is likewise baffled to insure optimum contrast. The tube interior is flat blackened to help prevent unfocused internal light reflections from reaching the focal plane.
Precision 2" Crayford Focuser is Standard
Optical focus is achieved by means of a mechanically ultra-smooth, backlash-free, precision 2" Crayford rack and pinion focuser-assembly. This focuser offers fine and ultra-fine focusing adjustments.
---
Skywatcher ED120 Black Diamond Specifications
Optical Design ED Refractor
Diameter 120mm
Focal Length 900mm
Scondary Mirror Diameter n/a
F/ratio F/7.5
Highest Practical Power 240x
Faintest Steller Magnitude 13.1
Resoving Power 0.96
Finderscope 8X50 Right Angle or 9x50*
Focuser diameter 2"
Diagonal 2 inch 90º Dieletric Diagonal with 1.25 inch adapter
Eyepiece(s) 2 inch 28mm eyepiece
Mount Type n/a
Slow-motion Control n/a
Counterweight(s) n/a
Piggyback Bracket YES
Accessory Tray n/a
Ground Board Diameter n/a
Ground Board Weight(s) n/a
Motor Drive n/a
Go-to n/a
Tube Weight 5.13kg
Tube Dimension(dia. x length) 10 cm x 62cm
Tripod Height n/a
Shipping Weight 14.5kg
Shipping Carton Dimensions 106.5 x 35.5 x 29 cm3
Please note: Standard accessories may vary
---
Return From Skywatcher ED120 Black Diamond To Skywatcher Telescopes
Telescopes Home Page