Vixen Porta II Altazimuth Mount
The Vixen Porta II is a sturdy alta-zimuth mount with a 20lb payload capacity and features Slow Motion Flexible Handles to minimize vibrations and keep your view sharp. This is incredibly useful for searching and tracking celestial objects.
The Sky at Night says: "When moving the telescope around the sky with this mount, we found any vibrations quickly dampened down. The whole system was very stable, even when the tripod was at its maximum extended height"*.
The mount head is easily removed to allow for a switch to a heavier tripod. Additionally, this is a wonderful mount for terrestrial viewing. Devoid of locks or clutches,Vixen's gear drives make it straightforward to accurately track a planet by turning the elevation and/or azimuth control handles. The Porta II Mount features slow motion control of both axes, solid central bolt for easy tripod change, flex handles and accessory tray.
This is an extremely popular alta-zimuth mount suitable for novices as well as seasoned amateur astronomers who have a preference for high mobility, simplicity of use and a stable, comfortable platform.
The "World-Standard" dovetail attachment system on PORTA II was developed by Vixen. This allows the PORTA II to accept various dovetail mounted optical tubes and binoculars.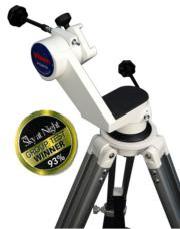 Specifications
Mount Porta II Altazimuth Mount
Tripod Aluminum 2 section adjustable; 35.4" to 51" (90cm to 130cm)
Mount Weight 15 lbs including tripod
Load Capacity 20 lbs
Vertical and Horizontal Slow Motion 120 Tooth Wheel Gears whole circle movement; Friction control system
Telescope Attachment Dove Tail Plate
Accessories Flexible Slow Motion Handles (2), Accessory Tray, Tool Kit
---
Return From Vixen Porta II Mount To Alt-Azimuth Mount Main Page