Intes Micro Alter M603
The Intes Micro Alter M603 6" F/10 Maksutov-Cassegrain optical system comes with moving primary focusing.
Mirror surfaces have 95% reflectivity and Meniscus lens is multi-coated. Internal baffle rings. Rear cell is fitted with 2" threaded opening to accept any SCT accessory.
Passive cooling system around meniscus. Cream-white painted tube. This scope is excellent for both visual and photographic use. Both Intes-Micro and STF/Mirage telecompressors of 0.8x, 0.6x and 0.45x can be used for imaging.
The Maksutov-Cassegrain telescopes from Intes Micro are marvelous for their high power, resolution lunar and planetary work fulfilling the demands of the most discriminating astronomer. Their compact tubes make them very practical to transport about and set-up.
The Maksutov-Newtonian design combines the finest characteristics of a Newtonian Reflector and Maksutov-Cassegrain to produce a telescope design which provides seriously breathtaking image quality, comparable to those realized with Apochromatic refractors, although at only a fraction of the price.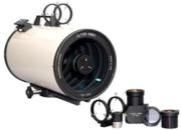 Specifications
Clear Aperture - 152 mm
Focal length - 1520 + 100 mm
Focal ratio - F/10
Back Focus - 30 - 250 mm
Photographic field of View - 10 35'
Tube diameter - 198 mm
Tube length - 440 mm
Tube weight - 4.8 kg
Max. useful magnification - 2x per mm aperture
Reflectitivity of mirrors - 95%
Central obstruction - 33%
Optical quality (for wave length 0.63 µm) - Minimum 1/6th wavefront error
RMS - 0.041
Body parts material - aluminium
Primary and secondary mirrors material - K7, LK5 (Pyrex) with reflective aluminium coating and SiO2 protected
---
Return From Intes Micro Alter M603 To Intes Micro Telescopes Main Page
Telescopes Home Page