AstroTrac TT320X-AG Astrophotography Made Easy
Using the AstroTrac TT320X-AG equatorial mount it's possible to take longer exposures at longer focal lengths making it possible to capture excellent images of a vast number of objects more rapidly and easily than in the past.
Autoguiding
At last you can receive pin sharps stars at longer focal lengths with the TT320X-AG's right ascension autoguiding capability. It is compatible with popular ST-4 autoguiders, for example the SBIG SG-4, Orion Starshoot, LVI SmartGuider, and with popular autoguiding software such as MaximDL and PhD.
The extraordinary unguided tracking accuracy of the TT320X-AG really needs to be seen to be believed. You can easily capture pin sharp stars at 200 mm or more focal length. The only other mounts which can match the unguided tracking accuracy of the TT320X-AG cost much more.
The majority of DSLR camera exposures are about 5 minutes or less. The AstroTrac TT320X-AG has typical unguided tracking error of around 5 arcseconds peak-to-peak or better over a 5 minute period.
The TT320X-AG unit is individually calibrated at the factory, therefore the tracking rate is exactly right. There's no need to spend your time measuring and adjusting the tracking rate to ensure its running at just the correct speed to prevent your images trailing.
This ultra portable device weighs only 1 kg (2.2 lb), and regardless of its minimal weight, the TT320X-AG can easily carry 15 kg (33 lb) of cameras, lenses and telescopes.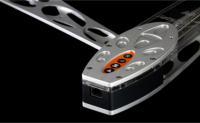 And you have no need to concern yourself with lumping large power supplies with you either as the TT320X-AG draws minimal power.
It's possible to get approximately 10 hours tracking from just one set of 8 AA cells, which also have the added advantage of being accessible from almost just about anywhere in the world.
Quick and easy to setup and use, it is the ideal match for easy to use digital slr cameras, and offers an alternative choice to much more complex, heavy equipment and long learning curves. You may will also be surprised by how much astrophotography you can actually carry out by making the most from small breaks in the weather.
Perfectly matched to the AstroTrac Travel System it can be used with any photo tripod equipped with a standard 3/8" photo thread.
A lot of care has been taken to ensure that the TT320X-AG is both beautiful and functional. The aluminium is anodised to provide a scratch and weather resistant finish.
Specifications
Weight 1 kg (2.2 lb)
Load capacity 15 kg (33 lb)
Tracking time 2 hrs
Tracking rates sidereal, solar, lunar
Autoguiding in right ascension with ST-4 compatible autoguider
Tripod mounting thread standard photo 3/8" 16 tpi
Wedge mounting screws 3 x 4 mm x 12 mm
TH3010 scope mounting standard photo 3/8" 16 tpi or 3 x 4 mm x 12 mm screws
---
Telescopes Home Page AstroTrac TT320X-AG to Equatorial Mounts Main Page