Atik 314E
The Atik 314E is a landmark in affordability and performance for cooled astronomy cameras and is based on the highly successful Atik 3 platform, which features state-of-the-art technology for supreme performance and ease-of-use.
Drawing on all the advantages of this popular platform, this camera incorporates a Sony ICX205AL ExView 1392x1040 sensor with 4.65µm pixels.
Readout noise is typically a class leading 3 electrons rms, and data download takes only 1.6s for a full-frame readout, or 0.8s in preview mode. The camera weighs only 350g.
The 314E camera is especially useful with both the popular small refractors and bigger telescopes using focal reducers, and since it is a 1/2" class CCD, it fits perfectly within the corrected circle of even 3.3 reducers, making it a good choice for SCTs. It is also an excellent choice for use with Starizona's Hyperstar system.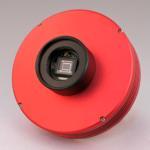 As a result of extensive research and development, the Atik 3 platform's benefits include:
USB2 performance for ultra-fast download speeds
1 megapixel/second readout, or 2 megapixel/second in preview mode
advanced electronics provide best-in-the-field readout noise characteristics
lightweight cases put less stress on your focuser
compact and symmetrical camera design allows use with fork mounts, as well as Starizona's Hyperstar system
low power consumption - 12V, 0.8A - means longer imaging sessions in the field
highly-efficient thermoelectric cooling - to 25°C below ambient temperature - virtually eliminates thermal current, making dark frames unnecessary
software-controlled cooling switch for automated operation
---
Return From Atik 314E Camera To Amateur Astrophotography Main Page
Telescopes Home Page