Atik 4000 CCD Camera
The Atik 4000 CCD Camera incorporates a 4 megapixel Kodak sensor with 7.4um pixels, which provides an ideal introduction to the joys of large-format imaging, being much bigger than the Sony sensors which are typically used for astronomy.
At 15mmx15mm, the sensor array is a perfect fit for standard 1.25" filters, offering a considerable saving over the 2" filters required by anything larger.
Resolution from the 4000 model is fine enough for printing at A4 or even A3 size, and when viewing images on a computer monitor it is a pleasure to see details emerging at ever-deeper zoom levels. Both mono and one-shot colour versions of the Atik 4000 are available.
As standard the 4000 is fitted with a KAI 04022 sensor. This comes in a single commercial grade and is specified as having no column defects
While the other cameras in the Atik range use Sony sensors, the large-format cameras incorporate Kodak devices.
Features
Camera body
3 meter USB cable
1.8 meter battery power connector (Car lighter plug)
CD-ROM with drivers, software and User's manual (PDF)
Quickstart guide (paper)
A high quality case with die cut foam inserts
A universal (110-230V) power supply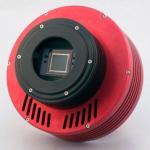 Specification
Sensor Type CCD - Kodak KAI 04022(datasheet)
Sensor size 16.67mm x 16.05mm
Horizontal Resolution 2048 pixels
Vertical Resolution 2048 pixels
Pixel Size 7.4 µM x 7.4 µM
ADC 16 bit
Readout Noise 11 e-
Dark current 0.01 electrons per sec at -20 degrees
Well depth 40,000 electrons
Anti blooming >1000x
Quantum Efficiency 55%
Linearity R squared test equal to 1
Interface USB 2.0 High Speed
Power 12v DC
Maximum Exposure Length Unlimited
Minimum Exposure Length 1/1000 s
Guide Port ST-4 compatible
Cooling Two stage Peltier with ?T=-40°C, with optional water assist Full temperature regulation.
Weight 990g
CCD to front of camera distance 18mm
Thread on front of camera T-Thread (42x0.75)
---
Return From Atik 4000 CCD Camera To Amateur-astrophotgraphy.html
Telescopes Home Page