Baader 36mm Aspherical Eyepiece
About The Baader 36mm Aspherical Eyepiece
Baader Planetarium has developed the wide field eyepiece to a brand new uncompromising level. Presenting the world's first production astronomical eyepieces to use aspheric surfaces, the 36mm and 36mm Baader Hyperion-Aspheric 72º Modular Eyepieces.
This completely new technology has made it possible for Baader to eliminate eyepiece aberrations without having the usual penalty of additional lens elements, excessive size and weight, or unrealisic high cost.
The Hyperion Aspheric's freedom from blackouts, kidney beaning, and lack of distortion combined with their long eye relief to produce a view that is extremely comfortable and natural for all users (including eye-glass wearers).
The ultra-wide 72° field is extremely flat and distortionless (virtually free of angular magnification distortion). Baader's renowned Phantom Group Multi-Coatings and thorough internal baffling produce an extremely bright and high contrast view that is free of light scatter.
Superb for projection imaging Hyperion-Aspherics are threaded to accept the full line of Hyperion Digital T-Rings, for a robust direct attachment of almost any camera.
The clever use of 2"x24tpi SCT threads for attaching the 2" barrel permits the Hyperion-Aspherics to directly thread onto the rear cell of popular SCTs from the Meade and Celestron range. resulting in the highest rigidity possible for imaging.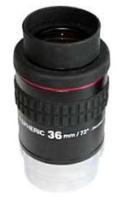 Dual Barrel Configuration
Two barrel sizes are provided with each Hyperion Aspheric. The standard 2" barrel provides the full 72º field size, and a special wide-field 1¼" barrel provides the maximum true field ever in a 1¼" format, with a field stop size of 32mm! - perfect for extracting every bit of field possible in 1¼" telescopes or binoviewers.
Features
Focal length 36mm
72 degree field
Aspheric lens design
1.25" & 2" Barrel
Threaded for filters
Phantom multi coatings
Rubber eyecups
---
Return From Baader 36mm Aspherical Eyepiece To Baader Hyperion Eyepieces Main Page
Telescopes Home Page