Barska 40070 Starwatcher
The BARSKA 40070 Starwatcher
Compact Refractor comes with a table top tripod and carrying case and is an ideal entry-level telescope for the aspiring amateur astronomer.
This solid refractor telescope has glass coated optics for enhanced image brightness, interchangeable eyepieces and 2x Barlow lens to improve viewing power.
Engineered with smooth functioning mounts and a sturdy adjustable tripod that is an excellent choice for astronomy enthusiasts and professionals.
Very easy to set up and includes everything necessary to begin an adventure into the World of astronomy, including telescope, finderscope, eyepieces, mount and tripod.
It's loaded with a host of features that novice users as well as experienced users will appreciate, and features a searchable database of over 10,000 plus objects including, nebulae, star clusters, double stars, variable stars, and other types.
Includes Barska's Deepsky Astronomy Software and soft carrying case.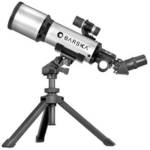 Specifications
MaximumPower: 88x
FocalLength: 400mm
ObjectiveLensDiameter: 70mm
Mount: PanHead
FinderScope: 5x24
DrawTube: 1.25inch
Eyepiece#1: K9(1.25"9mm)
Eyepiece#2: K20(1.25"20mm)
BarlowLens: 2x
MoonFilter: No
Tripod: TableTop
Weight: 4.4lb
---
Return From Barska 40070 Starwatcher To Barska Telescopes
Telescopes Home Page