Barska 900114 Starwatcher
The Barska 900114 Starwatcher Reflector is a solid reflector telescope with glass coated optics for enhanced image brightness. It includes interchangeable eyepieces with a 3x Barlow lens to increase viewing power.
Engineered with an equatorial mount with setting circles and dual slow motion adjustment cables.
In addition there is a sturdy adjustable aluminum tripod and Red Dot finderscope to help aim at sky targets, making it an excellent for astronomy.
The Barska Starwatcher telescope is ideal for the aspiring amateur astronomer.The optic equipment is easy to set up and includes everything necessary to start star-gazing
It also includes a new Beginner's version of the highly-popular Deepsky Astronomy Software which is packed with many features that novice and experienced users alike will appreciate.
This software has a searchable database of over 10,000 objects including nebulae, star clusters, double stars, variable stars and more.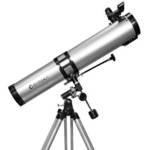 Specification
675x Max Power with 114mm objective lens
Equatorial mount with setting circles and dual slow motion adjustment cables
Interchangeable eyepieces with a 3x Barlow lens to increase viewing power
Reflector optical system
Includes tripod and carrying case
Telescope measures 25 inches long x 8 inches wide x 6 inches deep
---
Return From Barska 900114 Starwatcher Telescope To Barska Telescopes Main Page
Telescopes Home Page