Brass Telescopes
Brass telescopes traditionally have a long solid brass tube and are frequently mounted on a good quality wooden tripod, mahogany being a popular choice.
If you want to add a level of sophistication to your office, study, library or drawing room then this type of telescope is the ideal choice.
Celestron Ambassador
The Ambassador Brass Refractor Telescopes from Celestron are a good example of decorative showpieces that would enhance any room.
These scopes feature a classic Altazimuth mount and a delightful mahogany wood tripod. They are designed primarily for terrestrial observing however,they are also capable of informal astronomical observing.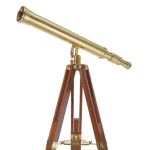 Two models are currently available the Ambassador 50 AZ and the Ambassador 80 AZ.
They both have an all brass optical tube with altazimuth mount and sturdy tripod which is made out of mahogony. Viewing through the scope you get an erect image which is standard with this type of scope.
The Ambassador 50AZ model has a fixed eyepiece which has a 16x. magnification and is good for all around general usage.
The Ambassador 80AZ model comes standard with a 25mm eyepiece which has a of 32x magnification.Extra eyepieces are available but do not come in a brass finish.
One constraint of astronomical observing is that the Ambassador telescopes have a relatively limited range of sky you can observe in.
Objects cannot be observed closer than about 30° from the zenith with the 50mm model and about45° with the 80mm model. This limitation is because of the vintage mechanical design of the altazimuth mount.
However, for those who have an interest in looking up in the sky it's possible to view the Moon and planets quite easily.
---
Return From Brass Telescopes To Celestron Telescopes
Telescopes Home Page