Canon 18x50IS Binoculars
Canon 18x50IS binoculars have been developed for professionals and discerning enthusiasts alike.These high magnification binoculars incorporate ground breaking technological know-how that sets a whole new standard of performance.
The Canon 18x50 Image Stabilization All-Weather Binoculars
are unique among high magnification binoculars because they incorporate Canon's remarkable Optical Image Stabilizer technology.
Proven highly effective in Canon video camcorders and professional lenses, this revolutionary system employs a novel Vari-Angle Prism that instantly and continuously makes adjustments to maintain a steady image.
With the Canon Optical Image Stabilizer, you can enjoy the resolving power of these binoculars without a tripod. You can even use them from within moving vehicles.
Their shake-free performance not only enhances your ability to view fine detail but also reduces eye strain and fatigue.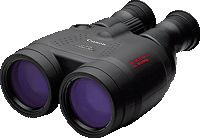 The IS series feature eyepiece lenses with a unique Doublet Field Flattener, which dramatically reduces curvature of field.
As a result, there is none of the image distortion and blurring at the periphery typical of high-magnification binoculars. This advanced design also results in long eye relief, which enables eyeglass wearers to view the entire field without vignetting.
Canon superior optical engineering also provides unusually wide apparent field-of view.
This is particularly important in high-magnification binoculars as it makes it easier to locate your desired subject.
High magnification of 18x
Large diameter 50mm objective lens for a bright field-of-view
Wide field-of-view of 67°
Long eye-relief of 15mm
Image stabilizer
UD element reducing chromatic lens aberrations
Suitable for use in all weather conditions
Buy Canon 18x50 IS Binoculars
from Amazon.
---
Return From Canon 18x50IS Binoculars To Canon Binoculars
Telescopes Home Page