Celestron CPC 1100 GPS XLT
The Celestron CPC 1100 GPS XLT has the largest aperture of the line, the CPC 1100 GPS Schmidt-Cassegrain telescope has the most light gathering power and has a limiting magnitude of nearly 15. The CPC 1100 GPS takes full advantage of its vast database of thousands of NGC and Abell galaxies as well as delivering a new level of detail to all your favorite deep sky objects. This CPC 1100 GPS features Celestron's premium StarBright XLT coatings.
With sophisticated software features like Hibernate function, the CPC can maintain its star alignment night after night without needing to be re-aligned, making it an ideal instrument for a permanent observatory facility.
The Celestron CPC GPS is the most portable of Celestron's top-of-the-line fork-mounted astronomical telescopes.
This telescope is at home as a superb visual instrument or with optional wedge and CCD cameras, as a serious astrophotographer's tool.
Turn this scope to planets and see amazing detail on the surface of Jupiter; see Cassini's Division in the rings of Saturn, and resolve details on the surface of Mars. Even the distant Uranus, Neptune and Pluto are within your reach.
Although large in aperture, with its conveniently located carrying handles and an instrument weight of 65 lbs, this telescope is portable enough to setup in your backyard or take with you to your favorite dark sky location.
Celestron's new CPC Series with revolutionary SkyAlign Alignment Technology re-defines everything that amateur astronomers are looking for quick and simple alignment, GPS, unsurpassed optical quality, ease of set-up and use, ergonomics, enhanced computerization, and most important, affordability.
Celestron CPC 1100 GPS XLT General Features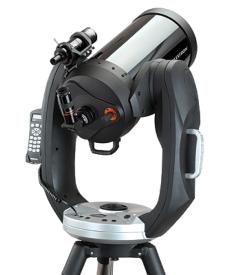 11" diffraction limited Schmidt-Cassegrain telescope
Celestron's premium StarBright XLT coatings
Fully computerized dual fork arm Altazimuth mount
8x50 finderscope to help accurately find objects
Newly designed heavy-duty tripod makes attaching the telescope so easy you can do it in the dark; also features sturdy 2" steel legs and accessory tray
Ergonomic design - Comfortably lift and move the telescope from location to location
Star diagonal provides more comfortable viewing position when observing objects that are high in the sky
Convenient remote hand control holder - Allows you to view information hands-free while using the scope
CPC 1100 GPS (XLT) - Computerized Mount Features
Proven NexStar computer control technology
40,000 object database with over 100 user-definable objects and expanded information on over 200 objects
Custom database lists of all the most famous deep-sky objects by name and catalog number; the most beautiful double, triple and quadruple stars; variable stars; solar system objects and asterisms
Re-designed drive base and drive mechanics - Quiet operation; large drive gears, quick release clutch
SkyAlign allows you to align on any three bright celestial objects, making for a fast and easy alignment process
Flash upgradeable hand control software and motor control units for downloading product updates over the Internet
Permanent PEC
Auxiliary port for additional accessories such as Autoguider, GPS accessory
NexRemote telescope control software and RS-232 cable included for advanced control of your telescope via computer
---
Return From Celestron CPC 1100 GPS XLT To Celestron CPC Telescopes Main Page
Telescopes Home Page