Celestron NexStar 130 SLT
Just like the other models in the SLT Series, the Celestron NexStar 130 SLT includes a fully computerized hand control, that provides you with the ability to automatically slew to any of its 4,000 objects, including over 600 galaxies, 300 clusters and a multitude of beautiful binary stars.
Designed to be an affordable entry level to mid-level computerized GoTo telescope, the NexStar Star Locating Telescope (SLT) refractors and reflectors can be found in the most in-demand sizes and have a mass of invaluable design features.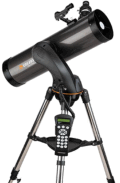 You will find it compatible with 2" eyepieces and it comes with a high quality 130mm reflector. A fully computerized Altazimuth mount and StarPointer finderscope makes alignment and accurately locating objects a breeze.
The NexStar 130SLT Computerized Mount Features has proven NexStar computer control technology and SkyAlign allows you to align on any three bright celestial objects, making for a fast and easy alignment process.
With this scope you will be able to view details of the lunar surface, the rings of Saturn, the polar ice caps on Mars, the cloud belts on Jupiter or a number of the Messier objects such as the globular cluster in Hercules (M13), or the Great Nebula in Orion (M42).
Begin to explore some of the fainter Messier objects using the additional light-gathering capabilities of the 130 SLT's 5" primary mirror.
Because of the Newtonian design, the mirror gives fully color-corrected views that are best suited for astronomical use
General Features
Compatible with 2" eyepieces
High quality 130 mm reflector
Fully computerized Altazimuth mount
StarPointer finderscope to help with alignment and accurately locating objects
Quick-release fork arm mount, optical tube and accessory tray for quick no tool set up
Sturdy stainless steel tripod and accessory tray included
Includes CD-ROM The SkyX First Light Edition astronomy software which provides education about the sky and printable sky maps
Computerized Mount Features
Proven NexStar computer control technology
Database allows telescope to locate over 4,000 celestial objects
SkyAlign allows you to align on any three bright celestial objects, making for a fast and easy alignment process
Flash upgradeable hand control software and motor control units for downloading product updates over the Internet
Internal battery compartment to prevent cord wrap during use
Auxiliary port for additional accessories such as GPS accessory
Includes NSOL telescope control software for basic control of your telescope via computer (with optional RS-232 cable)
Compatible with optional NexRemote telescope control software, for advanced control of your telescope via computer
---
Return From Celestron Nexstar 130 SLT To Celestron NexStar Telescopes Main Page
Telescopes Home Page