Celestron Powerseeker 114 EQ Telescope
The Celestron Powerseeker 114 EQ Telescope opens up a whole new way for you to see the wonders of the Universe.
The PowerSeeker series of telescopes have been designed with the first time buyer in mind.
These scopes are a combination of quality, value, features and plenty of power. These scopes offer outstanding value, they are portable yet powerful designs with ample optical performance to excite anyone looking into the world of amateur astronomy for the first time.
PowerSeekers scopes are available in a choice of refractor or reflector, equatorial or altazimuth mount design and they all have coated glass optical components for enhanced image brightness and clarity.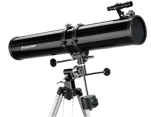 The Newtonian reflectors offer larger aperture and greater light gathering power needed to resolve the faint detail of hundreds of deep-sky and other celestial objects.
All PowerSeekers come on either sturdy equatorial mounts for tracking the sky, or collapsible altazimuth mounts which are suitable for terrestrial viewing as well as astronomical use.
A full range of eyepieces offering a range of magnifications, plus a 3x Barlow lens allowing an increase in viewing power hundreds of times greater than that of an unaided eye.
The Celestron Powerseeker 114 EQ model is quick and easy to set and requires no tools. It's slow motion controls allow for smooth tracking and the erect image optics are ideal for both terrestrial and astronomical use.
The Sky Level 1 Software locate and identify thousands of celestial objects on your laptop or PC and is included with all PowerSeeker models.
Here are the specs...
optical design: newtonian reflector
weight: 19 lb (8.62 kg)
cd rom: "the sky®" level 1
accessory tray: notool tray with eyepiece holder
tripod: aluminum
mount: german equatorial
finderscope: 5x24
barlow lens: 3 x
magnification 2: 225 x
eyepiece 2: 4 mm (0.16 in)
magnification 1: 45 x
eyepiece 1: 20 mm (0.79 in)
focal ratio: 7.89
focal length: 900 mm (35.43 in)
aperture: 114 mm (4.49 in)
limiting stellar magnitude: 12.8
resolution (rayleigh): 1.22 arcsec
resolution (dawes): 1.02 arcsec
photographic resolution: 253 line/mm
light gathering power: 265 x
angular field of view: 0.9 °
linear field of view (@1000 yds): 48 ft (14.63 m)
optical coatings: aluminum
secondary mirror obstruction: 1 in (25.4 mm)
secondary mirror obstruction by area: 5 %
secondary mirror obstruction by diameter: 22.3 %
optical tube length: 34 in (863.6 mm)
---
Return From Celestron Powerseeker 114 EQ Telescope To Celestron Telescopes
Telescopes Home Page