Celestron UV Filter
The Celestron UV filter is an invaluable aid in lunar and planetary observation. The ultimate UV and Infrared blocker, featuring hard Ionbeam coatings, and fine optically polished glass! The ideal filter for NexImage and CCD imaging.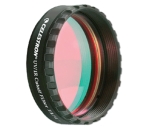 This filter has an extremely sharp cutoff at 690nm yet leaves all the visible red, including the important 656nm H-alpha emission line, preventing IR wavelengths from blurring fine detail in your digital images.
The performance of the filters is dependent upon a number of factors, including: the aperture, focal length of the telescope, the magnification being used, and viewing conditions.
UV/IR Cut-off Filter - 1.25 in - General Features
Freedom from ghost images (very low reflection multi-coating) enables pinpoint star images and fine planetary detail.
Ultra-Hard Ionbeam hardened coatings. This process results in a dense, sealed and highly scratch-resistant coating surface.
Threads onto most all 1 ?" eyepieces and NexImage camera
---
Return From Celestron UV filter To Celestron Filters
Telescopes Home Page