Williams FLT 123 Triplet APO
The New FLT 123 Triplet APO from William Optics is an air spaced 123mm refractor. It is of exceptional quality with remarkable clarity and color correction.
Made by LZOS with OK4 glass, this is amongst the very best objectives offering outstanding overall performance. At F/6 the telescope is fast, compact and is extremely versatile. It works brilliantly as an astrograph and can be used just as well as a scope for high power lunar and planetary observation as well as low power for deep sky and rich field observation.
This is pure William Optics quality fit and finish, with powder-painted white CNC-machined aluminum tube, golden finish, retractable dew shield with locking screw, and the scope features William Optics latest and greatest DDG Focuser.
Optically unbeatable
Featuring a top quality triplet air-spaced LZOS made objective with OK-4 glass achieves perfect color correction within visible range of the spectrum; OK-4 glass similar to fluorite has unique optical parameters. This scope delivers extremely sharp images and has a great color correction and the F/6 lens is ideal for astrophotography.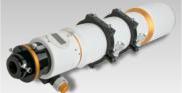 3.5" DDG Focuser
The Digital Display Gauge (DDG ) enables you to take precise focusing readings down to two decimals precision instantly.360 deg. rotatable. It comes with two locking screws on angled positions for heavy load applications and large aluminum knob with installed thermometer.
Patented Design
Stainless steel reinforcement inserts on both sides and on the back to allow heavy loading without problems.DDG integration will make your focusing experience the best you have ever experienced with a scope. It has a graduated scale for precise camera alignment.
DO-all Telescope
In spite of its 123mm objective, the telescope is still quite compact and solid, being only 640mm long. The focuser is so strong there is no need for a locking screw., and th etwo-speed microfocuser is STANDARD on all units.
Total Quality Package
There are 2" & 1.25" adapters included all with brass anti-marring compression rings, to complete the package there is a practical and safe soft case to stow away your scope.
---
Return From William Optics FLT 123 Triplet APO To William Optics Main Page
Telescopes Home Page