William Optics FLT132 APO
The William Optics FLT132 APO telescope is simply a joy to use and has outstanding correction, sharp images and contrast and the near perfect scope for astro imaging high performance visual use.
Once you have used this scope you will be totally amazed by the small details that can be observed and the spectacular resolution, visually or during astrophotography.
If you have ever imagined taking those stunning images of the heavens, the time has finally arrived. Very few other refractors in this size have a dedicated Field Flattener.
The 4" heavy duty focuser is fully rotateable and incredibly smooth. It features a 1:10 reduction gear and is capable of lifting extremely heavy loads with no image shift or slipping.
Additionally, it has a graduated scale to assist repeatability of focussing. This telescope is William Optics quality fit and finish: powder-painted white CNC-machined aluminum tube, golden finish, retractable dewshield, anodized 360 deg. rotatatable focuser, and engraved dewshield cap.
William Optics has a long track record of top quality reasonably priced telescopes and accessories and continues to expand on five continents. Currently there are merely a small number of countries in which a serious stargazer is unable to take pleasure in the optical and mechanical excellence of these telescopes.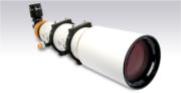 Specification
Aperture 132mm
Focal Ratio F/7
Focal Length 925mm
Objective Type 3 elements, Air-spaced, FPL-53
Resolving Power 0.86"
Limiting Magnitude 14.5
Lens Shade Retractable (O.D. 168mm)
Focuser 4" NEW crayford heavy duty focuser
360° rotatable graduated camera adjuster
1.25" Adapter included
1.25" Adapter Brass Compression Rings
Tube Diameter 141mm
Tube Length 104cm (Fully Extended)
78cm (Fully Retracted)
Tube Weight 9kg
Case High-quality Aluminum Case
Case Dimensions
(WxHxD) 99cm x 34cm x 30cm
Case Weight 13.5kg
---
Return From William Optics FLT132 APO To William Optics Main Page
Telescopes Home Page