William Optics FLT98 APO Telescope
The William FLT98 APO telescope is portable, high quality and developed for people who desire a high quality device in a reasonably compact package.The latest model comes equipped with William Optics Digital Display Guage (DDG) which shows you the current focus setting.
This model has absolutely stunning optics and features a high quality triplet f/6.3 air-spaced objective, and is amongst the finest that William Optics have ever produced. The precision optics with STM coatings were designed by a leading Russian designer with FPL-53 glass.
This telescope is incredibly sharp and has superb color correction making it the perfect choice for astrophotography enthusiasts.
Linear Focuser
The heavy duty 360 degree extra-smooth 3.5" Linear focuser is a treat to work with during astrophotography, and the patented design stainless steel reinforcement inserts on both sides and on the back to allow heavy loads without problems.
Pure William Optics quality fit and finish
This scope is well finished with solid CNC-machined mounting rings included in the price, powder-painted white CNC-machined aluminum tube, golden finish, retractable dewshield, anodized 360 deg. rotatable crayford focuser, dewshield cap complete the package.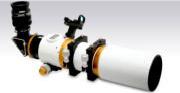 Specification
Aperture 98mm
Focal Ratio F/6.3
Focal Length 618 mm
Objective Type Air-spaced Triplet, Apochromatic objective
Lens Shade Retractable
Linear Focuser 3.5" 360° Rotating Camera-angle Adjuster
1.25" Adapter Included
100 mm Focuser Travel Length
1.25" Adapter Provided
Type of Mount Mounting Rings
Tube Length 513 mm (Fully Retracted)
600 mm (Fully Extended)
Tube Weight 5.18 kg
---
Return From FLT98 APO Telescope To William Optics Main Page
Telescopes Home Page