William Optics FLT98CF APO
The William Optics FLT98CF APO is a new addition to the line up and puts incredibly high optical and mechanical quality into a high-tech carbon fiber Package.
This FLT 98 Carbon Fiber Triplet APO telescope is ultimately designed for individuals who do not want to limit themselves to visual observations, but want to give themselves the chance of taking breath-taking astroimages.
The stunning optics feature a top quality triplet f/6.3 air-spaced objective, one of the best William Optics have ever made.
This scope is extremely sharp, has a great color correction and the perfect choice for astrophotography.
Linear Power Focuser
The Extra-smooth 2.5" LinearPower focuser is a treat to use during astrophotography. Incorporating a two speed microfocuser, large aluminum knobs and a graduated scale for precise camera alignment.
Quality Finish
Pure William Optics quality fit and finish: a lightweight pure carbon fiber optical tube and dew shield, anodized 360 deg. rotatable Linear focuser, dewshield cap.
Several accessories are available to make up this great package. A dedicated field flattener,2" and 1.25" adapters which are included, all with brass anti-marring compression rings.
The high quality soft case allows you to stow away your telescope in safety, and although I doubt you will never have need it, there is a 2-year warranty from William Optics.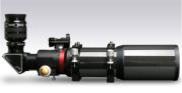 FLT 98 Carbon Fiber Triplet APO Specification
Aperture 98mm
Focal Ratio F/6.3
Focal Length 618 mm
Objective Type Air-spaced Triplet, Apochromatic objective
Lens Shade Retractable
Focuser 2.5" LinearPower Focuser, rotatable design
Intergrated 1:10 fine focus
1.25" Adapter Provided
Type of Mount Mounting Rings
Tube Length 505 mm (Fully Retracted)
600 mm (Fully Extended)
Tube Weight 3.5 kg
---
Return From FLT98CF APO To William Optics Main Page
Telescopes Home Page