Home Planetariums
Home planetariums are educational and make great astronomy gifts.
Laser Star 3 Dimensional Galaxy Generator
Imagine for a moment, being enveloped in a Universe of realistic outer space. Now even though you may never be in a position to journey to the cosmos it's possible to bring the breathtaking views of deep space directly into your home.
It's been said that this is of the same quality Laser Star :: 3 Dimensional Galaxy Generator
and will give you the same planetary experience that you would expect at a museum or planetarium exhibition, except this one is right in your own private bedroom or living room. Now you can experience the night sky like never before.
This isn't simply a stand still or rotation light projector, rather it is an actual 3 dimensional galactic generator that creates thousands of stars and ever morphing gaseous clouds. It must be seen to believed, it is absolutely stunning.
iOptron LiveStar Mini Planetarium
The iOptron LiveStar Mini Planetarium
enables you and your family to experience the excitement of visiting a planetarium from inside your own home.
As with other home planetariums the LiveStar Mini Planetarium projects the night sky onto the ceiling and walls enabling you to explore the stars from the comfort of your home. You'll be in a position to view the stars and constellations and even see the Milky Way.
Additionally, the planetarium rotates to imitate the motion of the night sky. It is simple to set up and use and it provides a fun way to learn about astronomy.
Homestar Planetarium
This pro series Homestar Planetarium from Sega streams thousands of stars on to your walls or celings for unbelievable views of constellations, meteors, plus much more. You will undoubtedly be held in awe of the crystal-clear, rotating field of stars with random streaking comets.
You can even watch star fields and view the Milky Way galaxy as seen from the Northern Hemishpere. The futuristic spehere planetarium is equipped with two interchangeable hi-res image disks (star field with and without constellations), optical-quality lens system with adjustable focus, an ultra-bright white LED light source, automatic timer, motorized image rotation and random streaking comet modes, adjustable projection angles, an AC adapter, and external portable battery pack.
Homestar Pro 2nd Edition
The Homestar Pro 2nd Edition home planetarium from Sega has some new features, a new disc, and an improved price point for those interested in painting their rooms with the projected universe. Designed by artist Kagaya, the Star Discs are packed with 60,000 stars and constellations on two monochrome discs, and the extra alternating Blue Earth + Moon and Stars disc adds remarkable color to the projection.
Projecting from an optimal distance of 2-2.5 meters, you can create a rotating universe on your wall or ceiling up to 270cm in diameter. Add in the randomly-timed shooting star function for some extra motion, and you'll make any dark/dim room look more trendy and relaxing.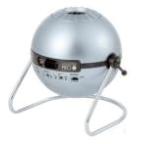 Features
60,000 stars: 10k at 6.5 magnitude + 50k Milky Way stars
Colors: Black or Silver
Ideal projection distance: 2m~2m30cm
Shooting Star: Fixed position, random timing
Rotation: Once in 12 min
Timer: 15, 30, 60 minutes
3W LED lighting
---
Return From Home Planetariums To Planetarium Main Page
Telescopes Home Page