Konus Konustart 700 Telescope
The Konus Konustart 700 Telescope is the ideal introduction into the intriguing world of astronomy. They produce bright images and are user-friendly and uncomplicated.
This telescope has very good success amongst the younger astronomer, this is exactly why Konus considered developing a special featured line to assist them to in their hobby.
The addition of a textile carrying case, in order to transport the telescope, professional astronomical software to ease the study of the Sky and locate the co-ordinates of celestial objects, and the dates in which they will be visible around the world.
Additionally there is an extensive variety of accessories, 2 professional diameter 31.8mm (1.25") eyepieces, a 2 x Barlow lens and image rectifier for terrestrial usage. This is an excellent kit for observation needs, complete with metal tripod, mount and operational instructions in 8 languages.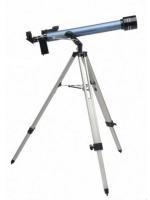 Specification
Diameter 60 mm (2".4), focal length 700 mm (27"), focal ratio f/11.6
Altazimuthal mount without motors
Metal tripod 69÷116 cm (2.3÷3.8 ft.)
Stardot finder scope
Eyepieces H 8 mm and H 20 mm, diam. 31.8 mm (1".25)
Magnification with supplied eyepieces 87.5x and 35x.
Barlow lens 2x and lunar filter
Atlas of the sky
Carry Case
---
Return From Konus Konustart 700 Telescope To Konus Telescopes Main Page
Telescopes Home Page