Konusmotor 130 Telescope
The Konus Konusmotor 130 is the perfect introductory astronomical telescope offering a large 130mm (5.1 inch) aperture with a 1000mm focal length.
This model has a distinctive optical and mechanical quality for an exciting astronomical experience. The Konusmotor-130 offers the triple advantage of a large 130mm aperture, an extremely compact tube and an impressive 1000mm focal lenght that provides a high magnification power.
In addition it includes a never-before-seen array of extra features: soft cases for carrying the telescopes everywhere electric focuser, R.A. motor drive, Plossl eyepieces and the incomparable "Sky Explorer" software with its countless functions.
This is the perfect choice for the novice or experienced sky watcher. The Konus Konusmotor is designed to provide you with the most impressive and brightest sights of deep space objects, making sure that you will be able to observe galaxies, faint nebulas, clusters and planets with ease.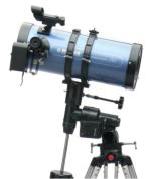 The Konus Konusmoter comes with a CD-ROM providing good quality star charting software enabling you to track your way around the night time sky effortlessly.
Moon Maps and sky maps are also included and feature labeling which enables you to find your way around. Finally charts of the constellations, deep sky and many of the most significant stars complete the package.
---
Return From Konus Konusmotor 130 To Konus Telescopes Main Page
Telescopes Home Page