Konuspace 6 Telescope
The Konuspace 6 telescope is a precise optical instrument that has been made with extreme care in every detail. Observation with this telescope will be easy, and it is amazing to begin to observe the Sky and to learn.
You can see the surface of the moon at up to 100X magnified with this high-quality beginners telescope.
This high-quality metal refractor telescope comes with all-glass optics.
Made by Konus, one of the most respected European brand names in telescopes and microscopes.
They are supplied with the cd-rom with "Sky Explorer" software, metal tubes, achromatic lenses and aluminum tripod.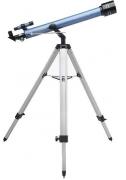 Technical Features
Refractor telescope with multicoated optics
Diameter 60 mm (2.4"), focal lenght 800 mm (31".5), focal ratio f/13.3
Alt-azimuth mount
Metal tripod 67÷116 cm (2.2÷3.8 ft.)
5x24 finderscope
90° diagonal mirror
Moon filter
eyepieces H 8 mm and H 20 mm, dia. 24.5 mm (1")
magnification with supplied eyepieces 100x and 40x
2X Barlow Lens, dia. 24.5 mm (1") magnification with supplied eyepieces 200x and 80x
Net Weight 4KgsBox
Box Dimensions 76 x 27 x 17 cm3
---
Return From Konuspace 6 telescope To Konus Telescopes Main Page
Telescopes Home Page