Losmandy Titan
The Losmandy Titan Mount is an equatorial mount that supports up to 100lb instrument weight, and includes the head, weight shaft and two 21lb weights, extra 7lb and 11lb weights are available.
This one is definately for the serious astronomer who has a high quality scope and wants a mount to do it justice.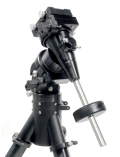 It looks great too!
With smart black anodised aluminium and stainless steel, precision engineering and state of the art electronics it make this mount probably the best in its class for telescope tubes up to 100lbs in weight.
The Losmandy Titan Mount offers solid, reliable, accurate tracking: +/- 5 arc sec. or better in four modes, a masterpiece of design in it's own right.
Gemini Goto
Complete with the Gemini 'goto' computer system, designed for the Losmandy HGM200, G-11 and G-8 mounts, amazingly smooth, for fast and accurate slewing.
The Gemini system has many features designed to quickly and accurately point the telescope to an object, then track it with even higher precision than the previous digital stepper drive used by Losmandy.
---
Specification
All machined stainless steel and aluminum, black anodized.
Shafts, 1.968" diameter stainless steel tubing, .250" wall thickness.
Worm gears, 6.750" diameter, 270 tooth, 7075 aluminum - special coated.
Worms, heat treated and ground stainless steel.
Single piece worm housing construction, double ended, ball bearing supported with adjustable preload.
Tracking: +/- 5 arc sec. or better.
Low temperature operation: 0 F
5.062" diameter needle thrust bearings.
3.500" diameter sealed ball bearings.
3.100" diameter sealed ball bearings for worm gear.
Fully locking, unique tangent arm design altitude adjustment, 12-70 degrees, large knob for easy alignment.
Laser engraved latitude scale in 2 degree increments.
Single knob azimuth control, bi-directional +/- 10 degrees, X/Y axis leveling bubbles.
Variable slip clutch, 6.0" diameter both axes, one knob design.
Full 360 degree rotation in both R.A. and DEC.
Fully enclosed R.A. and DEC. worm and worm gear.
Photographic instrument weight capacity 100 lbs.
Equatorial Head weight 75 lbs. Breaks down into R.A. 37.5 lbs. & DEC. 37.5 lbs.
Removable counterweight shaft with safety stop, 1.25" diameter.
Includes two 21 lb weights.
Split dovetail saddle plate design, 1.00" X 6.00" X 8.00"
Dovetail plate drops in and locks allowing for interchanging of any tube assembly - reduces the need for DEC. weights.
Accepts all "D" series dovetail plates.
7 lb and 11 lb extra counterweights available
Off axis polar scope, works in Northern and Southern hemisphere. (Polar scope optional.)
---
Return From Losmandy Titan Mount To Telescope Mounts
Telescopes Home Page