Celestron 15mm Luminos Eyepiece
The Celestron 15mm Luminos 1.25" is an exceptional eyepiece that uses seven optical elements for optimized performance over an extremely wide and flat 82° field of view (FOV).
A 10" f/4.5 Dobsonian reflector will have a full 1.07° field at 76x magnification with this eyepiece, that is more than twice the diameter of the full Moon and an excellent option for resolving globular clusters and the smaller nebulas. Whilst an 4" f/8 refractor will have a 1.51° field at 54x magnification, 3 times the diameter of the Moon.
This eyepiece is designed to have minimal field curvature, which makes it very well-suited for use with flat field telescopes most notably refractors with field flatteners, in addition to telescopes like the Celestron EdgeHD.
The rubber gripping ring provides for secure handling and smooth control of the eyecup, Threaded barrels accept 1.25" Celestron thread-in filters.
This new eyepiece is an incredible accessory for any superior quality telescope and I am confident it is going tol be well accepted by a good number of amateur astronomers.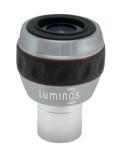 Luminos 15 mm Features
Focal Length: 15mm
Angular Field of View: 82º
Eye Relief: 17mm
Field Stop Diameter: 26mm
Optical Coatings: Fully Multi Coated
Optical Design: 7-Element
Barrel Size: 1.25"
Parfocal: Yes
Weight: 12 ounces
---
Return From Celestron 15mm Luminos Eyepiece To Celestron Luminos Eyepieces Main Page
Telescopes Home Page