Lunt LS152 Solar Telescope
The Lunt LS152 Solar Telescope is the largest available today and is sure to deliver the most amazing balance of resolution and performance.
Should it be image scale you're seeking, the LS152 supplies the largest and highest resolution image size of any single etalon dedicated scope. The 100% unobstructed system will perform to the highest level at both low and high magnifications.
Utilizing both advanced hi-contrast coatings, and the new Doppler True Pressure Tuning system, the user will be able to experience crisp, sharp, high magnification visual images, as well as utilize this system for high end digital processes.
The system has an optional, interchangeable, CaK module allowing for the research of multiple wavelengths thru the same platform. All in all a great package for the Intermediate to Advanced User.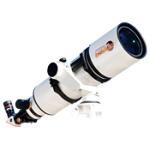 This scope features advanced narrow band an hydrogen-alpha dedicated system, refractor based system with a 152mm front objective, and an unobsructed internal HD Etalon with the NEW Pressure Tuner which allows for <0.65 Angstrom bandpass, providing slightly higher surface detail without the loss of edge detail.
The system includes the mounting rings and dovetail, dust caps, and is delivered in an Aluminum re-enforced case.
Specification
Type: Single Interference HD Etalon
Tuning: Doppler True Pressure
Aperture: 152mm
Focal Length: 900mm
Focal Ratio: F6
Bandpass: <0.65 Angstroms @ 656nm
Focuser: Starlight Instrument
Feather Touch
Color: Pearl White with Black and Red accents
Diagonal: B1200 Blocking Filter (B1800 needed for imaging)
Skill Level: Intermediary thru Advanced
---
Return From Lunt LS152 Solar Telescope To Lunt Telescopes Main Page
Telescopes Home Page