Lunt LS35THa Solar Telescope
The Lunt LS35THa Solar Telescope is a dedicated Hydrogen-alpha telescope and is the most compact 35mm etalon system currently available. An unobstructed, front mounted, 35mm etalon provides a bandpass of <0.75 Angstroms.
Prominences and some surface detail can quickly be viewed through this very portable single stack system. You can add it to an existing system or use it as a quick grab and go.
Because the LS35THa is small and compact it is ideally suited to being stacked side by side for Binocular viewing. The biggest OD of the LS35Tha is 62 mm (dew shield).
Both the normal LS35THa and the double stacked version with <0.55 Angstrom bandwidth are available as basic package or deluxe package.
The basic package telescopes are equipped with the B400 blocking filters designed for visual observation and come with adjustable scope clamshells. In addition the telescopes are equipped with a 1/4"-20 thread, so that the telescopes can easily be mounted on any photo tripod.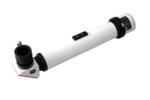 Specifications
Aperture: 35mm Unobstructed Front Mounted Etalon
Band Pass: <0.75 Angstroms
Focal Length: 400 mm
Blocking Filter: 4mm; Full Disk Image up to 400mm Focal
1.25" helical focuser , all normal 1.25" pieces can be used
biggest tube diameter =62,00 mm
main tube diameter55,5 mm
Tube length without blockingfilter :340 mm
Tube length with blockingfilter :415 mm
Weight without holder 1350 gramms
Basic Package (LS35THa) Includes:
LS35THa Telescope Assembly
Mounting Rings with Standard Base
LS35THa Deluxe
The deluxe package provides an additional dovetail plate mounted at the clamshells, this enables the telescope to be used on astronomical mounts as well. In addition these telescopes are equipped with the larger B600 blocking filter, which is better for imaging. Also a 10 mm eyepiece belongs to the deluxe package.
---
Return From Lunt LS35THa Solar Telescope To Lunt Solar Telescope Main Page
Telescopes Home Page