Meade 127mm ED APO
The Meade 127mm ED APO Triplet Refractor telescope has a focal focal Length of 950mm, f/7.5. It gives impressive visual and photographic performance in an extremely transportable package.
For crisp and clean wide field viewing and imaging, there is nothing that can beat a true triple-element Apochromatic Refractor.
Meade Series 5000 ED APO Triplets are amongst the very best at any price.
They feature a fully multi-coated triplet objective lens made from the highest quality ED (extra-low dispersion) glass for exceptional contrast and sharpness along with near zero detectable chromatic aberration or "color fringing".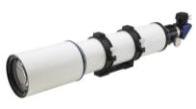 Additionally they feature a very precise dual speed 2" Crayford focuser with 10:1 gear reduction for ultra fine focus control.
Standard equipment also includes a Meade Seies 5000 2" diagonal with 99% reflectivity and an aluminum hard carry case to protect your investment when not in use. Comes with a 8x50 viewfinder and removable dew shield.
The scope bolts to a standard photo style tripod which has 1/4-20 mounting bolts. The mounting bracket will additionally secure directly to the existing dovetail on the Meade LXD75 tripod without any modification.Tripod and telescope eyepieces are not included.
---
Return From Meade 127mm ED APO To Meade 5000 ED APO Main Page
Telescopes Home Page