Meade Reflector Telescope
Meade 114/900 EQ1-B Reflecting Telescope
This Meade Reflector Telescope enables you to explore the heavens with accuracy , reliability and ease. It brings together state-of-the-art optics with handy accessories that bring the stars right into your backyard.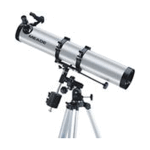 The large 114mm precision polished primary mirror, with its front surface coated in highly reflective aluminum and protected by a hard silicone-monoxide quartz overcoat gathers 361 percent more light than a 60mm diameter lens, showing brighter and more detailed images.
This helps greatly when observing faint and distant deep space objects.
Its German equatorial system with slow motion controls gives you a stable, time-proven design which allows for micro slow-motion adjustments on both axes.
Meade Reflector Telescope features include:
Reflector optical design
900mm focal length, f/8
Adjustable aluminum tripod with tray
2 x 1.25" eyepieces (MH9mm and MA25mm)
2X Barlow lens
DS-2000 mount
5x24 view finder and bracket
Measures approx. 34"L x 5" in diameter
---
Return From Meade Reflector Telescope To Meade Telescopes
Telescopes Home Page