Megrez 110 Doublet ED APO
The William Optics Megrez 110 Doublet ED APO is an ideal entry level astrophotography instrument for the amateur astronomer, without disappointing for visual work. It is a very compact scope that you will keep for a lifetime. Another amazing 110mm, this time a fast doublet air-spaced APO.
Featuring a very good doublet air-spaced objective with very good color correction considering its focal ratio it is optically unbeatable.
The Extra-smooth 2.5" Crayford focuser is a treat to use during astrophotography. No more image shifting.It is 360 degree, rotatable, has large aluminum knobs, and a graduated scale for precise camera alignment.
The overall impression is that this scope is incredibly compact and lightweight, the focuser is extremely solid and smooth and the two-speed microfocuse will enable you to achieve perfect focus at all times.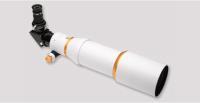 Specifications
Aperture 110mm
Focal Ratio F/5.95
Focal Length 655mm
Objective Type 2 elements Air-spaced; ED glass
Resolving Power 1.05"
Limiting Magnitude 12.0
Lens Shade Retractable
Focuser
2.5" 360° Rotating Camera-angle Adjuster
1:10 dual speed reduction
1.25" Adapter Included
1.25" Adapter Brass Compression Rings
Tube Diameter 114mm
Tube Length 21.5" (546.1mm) Fully Retracted
Tube Weight 9.9lbs. (4.5kg)
Case High Quality Aluminum Case
Case Dimensions
(W x H x D) 31.8" x 9.6" x 7.8"
(81.5cm x 24.5cm x 20cm)
(Total interior length 740mm)
Case Weight 5.3kg
---
Return From Megrez 110 Doublet ED APO To William Optics Main Page
Telescopes Home Page