Megrez 120 Doublet Apochromatic Telescope
The William Optics Megrez 120 DDG APO f/7.5 Refractor telescope will absolutely amaze you, utilizing an extremely top quality premium 120mm F7.5 FPL 53 doublet lens that has been thoroughly tested and evaluated.
This telescope will prove to be incredibly functional both visually and for astro imagers with its 900mm focal length bringing in range lots of targets unsuitable for imaging with shorter focal length scopes. It delivers crisp, sharp, and color-pure images, even at magnifications upwards of 200x magnification
William Optics are unsuprisingly extremely proud to present this innovative device, the first ever seen on an Astronomy telescope. This prominent, revolutionary design is primary equipment for serious amateur and professional astrophotographers.
The Digital Display Gauge - DDG - allows you to take precise focusing reading down to two digits (mm) number instantly.
With this new device integrated on to the telescope you will no longer need your old red flashlight during observation or imaging of the night sky.
Featuring a top-quality doublet air-spaced objective with FPL-53 ED glass with a focallength provides excellent magnification and resolving power it ensures this scope is optically unbeatable.
The heavy duty two speed 3.5" DDG Power Linear Focuser with illuminated screen allows for precise camera alignment.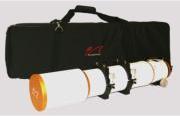 Specification
Aperture 120mm
Focal Ratio F/7.5
Focal Length 900mm
Objective Type 2 elements Air-spaced; FPL53 ED glass; STM coatings
Resolving Power 0.96"
Limiting Magnitude 13.1
Lens Shade Retractable
New DDG Linear Focuser 3.5" DDG NEW reinforced steel heavy duty focuser 360¢X Rotating Camera-angle Adjuster
1.25" Adapter Brass Compression Rings
Tube Diameter 120mm
Tube Length 760mm Fully Retracted, 880mm Fully Extended.
Tube Weight 13lbs (6kg)
Case Soft Protected Carrying Case (Included)
Case Dimensions
(WxHxD) 35"(W) x 12"(H) x 10"(D)
(Water Resistant)
---
Return From Megrez 120 To William Optics Main Page
Telescopes Home Page