Megrez 72 FD Doublet APO
The Megrez 72 FD Doublet APO operates at F6 and is a true multi-purpose tube assembly.
It incorporates excellent mechanics, fit and finish and with it's Crayford 2-speed fine focuser, super-high transmission multi-coating, optional white ABS backpacker type carry case that will fit all of your requirements.
The Megrez 72 FD Doublet APO operates at a fast focal ratio which makes it the perfect travelling companion for travel astrophotography, piggybacking or simply as a spotting scope.
The lens design is ED glass doublet air-spaced, in CNC machined ultra-high precision lens cell, and each lens is fully multi-coated with a special super-high transmission coating (STM Coating) on all surfaces.
Additionally it is fully baffled to block all extraneous off-axis light rays and prevent glancing reflections, increasing overall contrast
There is nothing that has been left to chance with this scope. It is excellent for EAZY-T Alt-Az Mounts. It is also possible to slide it directly into the mount without a dovetail plate if you prefer.
And as you would expect from William Optics, this scope has quality fit and finish: powder-painted white CNC-machined aluminum tube drawtube, travel length 81 mm with graduated scale. Retractable dewshield, smallest size ever and improved portability.
It is an astrophotography delight, offering a fast focal ratio for bright, high-quality astro-imaging. A dedicated field reducer/flattener is also available.
The William Optics rotatable Crayford focuser is both smooth and precise, making it ideal during astrophotography. Adjustable focuser tension. Super-smooth and reliable 1:10 micro focuser for fine focusing during imaging and visual observations alike.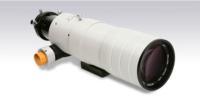 Specification
Aperture 72 mm
Focal Ratio F/6
Focal Length 432 mm (17")
Objective Type Doublet, Air Spaced,
Fully Multi-Coated, SMC coating
Resolving Power 1.58"
Limiting Magnitude 11
Lens Shade Retractable
Focuser 50.8 mm (2") Crayford Focuser
with 1:10 Dual Speed microfocuser
81 mm (3.2") Focuser Travel Length
360° Rotatable Design
1.25" Adapter Brass Compression Rings
L-type Mount L Bracket
Field Stops 2 Baffles
Tube Diameter 87 mm (3.43")
Tube Length 300 mm (11.8") Fully Retracted
360 mm (14.2") Fully Extended
Tube Weight 4.8 lbs. (2.2 kg)
Backpack Dimemsion
(WxHxD) 31.8 cm x 44.5 cm x 16 cm
(12.5" x 17.5" x 6.2")
(Water Resistant)
Backpack Weight 4.01 lbs. (1.82 kg)
---
Return From Megrez 72 FD Doublet APO To William Optics Main Page