Nexstar GPS
Celestrons NexStar GPS telescopes are the end result of many years of engineering, research and development, and deliver the ultimate instrument in GoTo technological innovation.
For the very first time in a commercial telescope, Celestron have combined an integrated Global Positioning System with its legendary Schmidt-Cassegrain optics to deliver quite possibly the most sophisticated telescope available that you can buy.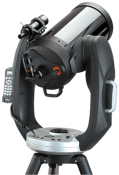 This scope is so advanced that as soon as it is turned on, the internal GPS receiver links up and acquires information from orbiting GPS satellites. As soon as this information has been received it automatically downloads the time and date then pinpoints its exact location..
There is no need to enter the date, time, longitude and latitude or even know the position of north as it has all the information it needs.
Once aligned, the NexStar has a key on the hand control to allow direct access to each of the catalogs in its user-friendly database. Messier objects, NGC Galaxies or planets, the NexStar database has over 40,000 celestial objects to choose from.
And to make navigating through this extensive database much faster and easier, NexStar has user-definable database filter limits. With the "filter limits" feature the NexStar database will display only those objects that are above the horizon for your exact date, time and location.
---
Return From Nexstar GPS To Celestron Telescopes
Telescopes Home Page