Optics Cleaning Kit
A good Optics Cleaning Kit will ensure that after you have invested a sizable sum in your optics you keep them in the best condition possible.
Using the appropriate package to keep it working at it's best at all times is good idea particularly if you want to obtain the optimum in images.
There are a number of companies such as Zhumell, Orion and Custom Scientific offering optics cleaning kits.
Zhumell
The Zhumell Optic Cleaning Kit is a package with of all the necessities for optical care in a tidy, water-tight container.
Made for professionals and amateurs alike, it includes cleaning fluid, a flexible lens brush with bellows, a microfiber cleaning cloth, cleaning tissues and cotton swabs.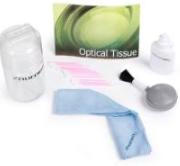 The bellows, for those of you who might be confused, is a manual air pump to gently blow as you clean with the flexible fiber brush.
The cleaning fluid is specially formulated to handle lenses without damaging the delicate optics and coatings. You can use this cleaning kit on digital cameras, binoculars, microscopes, or any other type of lens available.
Orion
This handy kit holds everything you need to keep your optics in top-rate condition, and includes optics cleaning fluid, 5 cotton swabs, lens tissues and optics cleaning cloth. Also includes blower bulb to whisk away dirt particles.
Custom Scientific
The Custom Scientific optics is an extremely comprehensive cleaning kit that works well for optics made from glass, and is suitable for use with most optical coatings including anti-reflection coatings.
Features
An effective, yet gentle solvent appropriate for cleaning most optical coatings, including soft, fragile ones
Safe, soft wipes for cleaning delicate and robust optical coatings
Disposable, latex gloves
Disposable, latex finger cots
A unique tool for the safe and proper removal of grit
A hands-free solvent dispenser
Lens tissue to properly wrap cleaned, coated optics
Hermetic sealing zip bags for the safe storage of delicate optics
Eight pages of detailed printed instructions
Enough consumable materials to clean more than 30 filters of 2x2 inch size
All conveniently packed in a portable, heavy-duty, high-density polyethylene, double-wall, carrying case.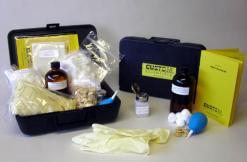 Read more from Custom Scientific ....
---
Return From Optics Cleaning Kit To Telescope Eyepieces Main Page
Telescopes Home Page