Orion AstroView 90 Equatorial Refractor Telescope
The Orion AstroView 90 Equatorial Refractor Telescope is a soundly constructed, great performing telescope that any new backyard astronomer will appreciate from the first night out. Available at an extremely affordable price without compromising the quality of the equatorial mount or standard accessories.
As any telescope aficionado will tell you, the virtue of refractors lies in their pristine image quality. The problem has always been the price: refractors cost more per inch of aperture than any other telescope design. That's still true, but steady advances in precision lens manufacturing technology are bringing those prices down.
A Revealing Night Out
When we took the AstroView out for an evening spin recently, we first targeted Jupiter. Cloud banding starkly visible, as were all four of its major moons. Then, the crescent Moon. With the 10mm telescope eyepiece (91x power), the rugged relief and shadow play along the terminator were transfixing.
On to the Orion Nebula, where at 36x the four Trapezium stars appeared as perfect blue pinpoints surrounded by a pretty patch of greenish gas. We then powered up to 91x, and — Wow! — the nebula seemed to sprout wings, which spanned nearly the entire field of view!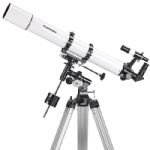 An occasional tweak of the equatorial mount's R.A. slow-motion cable kept the glow centered in the telescope eyepiece. Next, the Beehive Star Cluster (M44) in Cancer.
A dazzling splash of bright speckles filled the field at 36x. And so the evening went. The multi-coated 90mm achromatic objective lens (910mm focal length, f/10) served up surprisingly high-contrast images — despite our being awash in neighborhood porch and street lights.
The Orion AstroView 90 Euqatorial Refractor Telescope will provide you with many such evenings of heavenly browsing — at an unprecedented low price.
It comes fully equipped with a 6x30 achromatic finder telescope, two fully coated 1.25" Sirius Plössl telescope eyepieces (25mm and 10mm), mirror star diagonal, dust cap, and 1/4"-20 adapter on one of the tube rings for piggyback camera attachment.
The precision EQ-2 equatorial mount provides a firm foundation. It features dual setting circles, slow-motion cables, oversized lock knobs, and a height-adjusting aluminum tripod with large accessory tray.
Features
A powerful, high-quality telescope at an affordable price
90mm aperture and 910mm focal length for crisp views of deep-sky objects, the moon, and planets
Includes adjustable tripod and equatorial mount for hands-free celestial tracking
Includes two eyepieces, finder scope, focuser, diagonal, and FREE Starry Night astronomy software
One-year limited warranty
---
Return From Orion AstroView 90 Equatorial Refractor Telescope To Orion Telescopes
Telescopes Home Page