Orion GoScope 80 TableTop Refractor Telescope
For portability, low-power and wide-field viewing the Orion GoScope 80 mm Refractor Telescope is an excellent choice, and a wonderful first telescope for beginners.
However it's not just for beginners, the GoScope 80's convenient size makes it a true "grab-and-go" telescope, which is perfect for the mobile interests of serious amateurs.
With an 80mm objective lens and 350mm focal length (f/4.3), the GoScope 80 performs impressively for its modest size, collecting over 30% more light than its 70mm counterpart, and over 70% more light than a 60mm refractor.
The 20mm (18x) and 10mm (35x) 1.25" eyepieces which are included will help in your exploration of the solar system.
The tube assembly of the GoScope 80mm Refractor Telescope is attached to a stable table-top swivel base, via a quick-release dovetail mount with adjustable altitude tension. The tube can easily be removed from the base and mounted on an optional photo tripod.
A red-dot view finder, internal focuser (which moves the primary lens back and forth) and included 90 degree star diagonal round out the features of this compact, yet surprisingly capable, refractor telescope.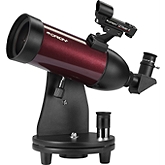 Specifications
Collects over 70% more light than a 60mm refractor
Red-dot finder makes it easy to locate objects in the night sky
Observe the Moon, planets, star clusters, and bright nebulas and galaxies
Table-top base can be easily mounted on a tripod with a 3/8" or 1/4"-20 threaded post
Lightweight, compact design lets you take the GoScope anywhere
---
Return From Orion GoScope To Orion Telescopes Main Page
Telescopes Home Page