Orion Observer 60mm Refractor Telescope
The Orion Observer 60mm Altazimuth Refractor Telescope is suitable for first-timers of any age. It's light-weight and compact so it's convenient to carry to your viewing location.
This scope provides user-friendly up-down, left-right motion to make maneuvering easy. Whether for panning a scenic landscape or surveying the Milky Way for star clusters, this telescope provides a pleasant experience
Its glossy optical tube is made of seamless aluminum and outfitted with a smooth-action rack-and-pinion focuser on one end and a dew cap/glare shield on the other. Housed inside is a multi-coated, achromatic glass objective lens that's 60mm in diameter, with a focal length of 700mm (f/11.7).
You'll appreciate exceptional details of the Moon's cratered surface, Jupiter's cloud bands and moons, the majestic Orion Nebula, and the mind-boggling Andromeda Galaxy.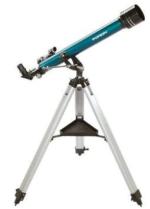 Orion specifically engineered the altazimuth mount to provide considerably greater stability compared to standard "off the shelf" altazimuth mounts. It has an altitude micro-motion control to allow very fine aiming adjustments.
The Observer 60mm telescope comes with everything you need to start observing right away. Standard accessories include a 5x crosshair finder telescope, mirror star diagonal, 10mm (70x) and 25mm (28x) Explorer II telescope eyepieces, and a tripod accessory tray. This is one scope that will keep any observer enthralled for years.
---
Return From Orion Observer 60mm Refractor Telescope To Orion Telescopes
Telescopes Home Page