Orion SkyQuest XT10
The Orion SkyQuest XT10
is a Classic 10" Dobsonian reflector that makes big-aperture astronomy economical, easily transportable, and enjoyable.
Its massive light gathering capability and outstanding deep space performance will amaze both the seasoned observer and the newcomer to astronomy.
This scope provides you with the deep-space excitement without worrying about deep-pocket frills. It's lean and mean in order to keep its price low for those on a tight budget.
However , you can feel comfortable in the knowledge that the XT10 Classic Dob arrives fully prepared for adventure, regardless of whether you're a new stargazer or are upgrading to a more capable telescope.
The XT10 features an expertly figured parabolic mirror housed in an enameled steel optical tube. The tube rides on a stable Dobsonian base that enables easy point-and-view navigation and has a convenient carrying handle.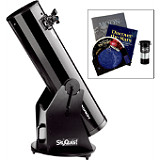 A 2-inch Crayford focuser, EZ Finder II aiming device, 25mm Sirius Plossl telescope eyepiece (1.25-inch), and quick-collimation cap are all standard equipment.
It only takes a minute to setup, leaving the remainder of the evening to marvel at the planets, the Moon, and a multitude of deep-sky treasures.
---
Return From Orion SkyQuest XT10 To Orion Telescopes Main Page
Telescopes Home Page