Orion SkyQuest XX12g
The Orion SkyQuest XX12g GoTo Truss Tube Dobsonian Telescope is the latest innovative combination of big-aperture performance and convenient portability.
This is Orion's most advanced 12-inch Dobsonian, prepared for in depth exploration of the night sky, with fully motorized GoTo and tracking drives providing automated pointing to any of the over 42,000 celestial objects in the hand controllers database.
The large aperture reflector optics pull in a massive amount of light from the night sky for excellent views of nebulas, galaxies, star clusters and solar system targets such as the Moon and planets.
This scope has been designed to break down into easily manageable components for transportation in just about any vehicle.
Closed-loop electronics forgive accidental bumps, nudges, and even manual repositioning without losing alignment of the GoTo system and the rigid 8-pole truss tube design eliminates flexure observed in 6- and 3-pole truss Dobsonians
Included with the setup is a 35mm DeepView 2" eyepiece, 12.5mm illuminated Plossl 1.25" eyepiece, eyepiece rack, EZ Finder II reflex sight, 2" extension tube, reflector collimation cap, 12V DC power cable, Cooling fan, Starry Night software.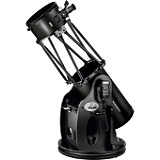 A collimation cap, removable eyepiece rack, 12V DC power cable and RS-232 cable are also included. A 12V power supply is required for use of the GoTo system and motors.
Altitude and azimuth motors automatically track the motion of the target object so it stays put in the eyepiece field of view for extended visual study. For anyone who has spent an evening manually tracking objects with a Dobsonian this is a profound upgrade.
With 12 inches (305mm) of light gobbling aperture and a fast f/4.9 focal ratio, the XX12g is capable of providing clear, crisp and very bright views of the night sky in a 2-inch or 1.25-inch eyepiece installed in its 2-inch dual-speed Crayford focuser with 1.25-inch adapter.
The 12-inch diffraction-limited parabolic primary mirror is crafted from low thermal expansion glass for speedy ambient temperature acclimation and optimal visual performance.
The included cooling accelerator fan helps hasten temperature acclimation of the primary mirror (requires 8 D-cell batteries, or other 12V power source, not included).
The primary mirror features enhanced reflectivity aluminum coatings which provide 94% reflectivity and a protective quartz overcoat, so you get the most out of each and every photon collected.
There is no doubt at all that with the Orion SkyQuest XX12g GoTo Truss Tube Dobsonian telescope, you're amply equipped for big-aperture visual adventures, wherever you may roam.
---
Return From Orion SkyQuest XX12g To Orion Telescopes Main Page
Telescopes Home Page