Pentax Binoculars
These 10X50 and 12x50 Pentax binoculars are recommended for astronomy as well as terrestial viewing. The Pentax PCF Astronomy Binoculars have a durable rubber-coated aluminum die-cast body, and lenses which are multi-coated to reduce scattered light reflections that tend to blur celestial bodies.
10x50 binoculars are historically regarded as the optimal size for handheld astronomical observation. Whilst the 12x50 has slightly stronger magnification for teasing out additional detail in the night sky.
These binoculars feature superb optics which are designed with a slightly different perspective to the majority of other binoculars available today. Designers decided to accept comparatively narrow fields of view to achieve maximum edge correction. These optics are as near to "sharp edge-to-edge" as you'll get in a traditional binocular.
This feature alone has made them extremely favored by amateur astronomers, who appreciate edge sharpness more than terrestrial observers do. The quality is extremely good, with durable diecast-aluminum construction that is dry nitrogen purged, and designed to be JIS Class 6 waterproof (waterproof to one meter). Both models feature 20mm eye relief, which makes it an ideal choice for anyone wearing glasses.
Binoculars are waterproof and durable. Bak-4 technology is incorporated into internal prisms that contribute to a reduction in the overall size and weight of these binoculars. The Pentax DCF SP binoculars are additionally fog-free and have a repellent coating on the lenses.
This high-performance model delivers exceptional viewing in even the lowest light conditions and harshest climates.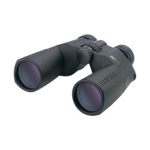 Also available in 8x40, 10x50, 12x50, 20x60
Fully multi-coated lenses
BaK4 glass prisms
Aspherical eyepiece
Aluminium diecast body
Full rubber armouring
Internal focus design (sophisticated optical design contributing to size and weight reduction of the binoculars and improves balance)
Helicoid eyepiece ring for comfortable eye relief
Waterproof and fog-free (JIS Class 6)
Nitrogen filled
Mechanical focus lock enables the user to lock in at a specific distance for focus-free viewing
---
Return From Pentax Binoculars To Astronomy Binoculars Home Page
Telescopes Home Page