Portable Telescope Pier
Advanced Telescope Systems Portable Telescope Pier
A sizable number of astronomers prefer to use a portable pier when on the move, and there are several manuafacturers that offer both permanent and portable piers.
Advanced Telescope Systems offer portable piers that meet the most exacting requirements of a rigid base for an observing platform while at that same time being extremely solid, easily leveled and impervious to all weather conditions.
Currently they offer 8",10" and 12" piers which are constructed in high quality aluminimum and given a powder paint finish to not only give it an attractive finish but also protect it against the elements.
For added protection a polyurethane coating is available, be it an an extra cost.
Fixing bolts and screws are finished in stainless steel, and the assembly is secured top and bottom with an aluminum plate to eliminate any vibration.
The legs are made from square tubing which is welded together for extra strength, and there are adjusters between the base and legs for precise levelling even on uneven ground.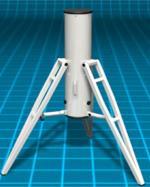 The weight as you can imagine is quite heavy, between thirty and seventy pounds depending on the pier,although they do come with a balanced carrying handle to make it easier to carry.
You will require an adapter for your particular mount, and there have different adapters available for leading manufacturers such as Meade and Celestron.
Looking at their specification it appears that have covered all the basics to give the best stabilty they can in a portable unit.
The full specification can be found on their website at Advanced Telescope Systems

---
Return From Portable Telescope Pier To Telescope Pier Main Page
Telescopes Home Page