QSI 516
The QSI 516 Cooled CCD Camera from Quantum Scientific Imaging, Inc employs a 1.6 megapixel Kodak Enhanced Response full-frame CCD image sensor with microlens technology. The high quantum efficiency, wide dynamic range and low noise performance make the 516 ideally suited to a broad range of demanding astronomical, scientific and industrial imaging applications.
The 500 series sets a new benchmark for compact design and power efficiency in a high performance, full-featured scientific CCD camera. With optional features and upgradeability, the 516 can be tailored to fit your needs today and in the future.
The 516 camera system is supported by industry leading image acquisition software and development tools are available for creating custom Windows or Linux imaging applications.
The QSI 516wsg is now available with an integral Off-Axis Guider allowing you to guide using the light from your main telescope while picking off the light from the guide star in front of the filters.
Seven different models are available employing a comprehensive range of monochrome and single-shot color scientific grade CCDs. A variety of options and accessories are available to meet your astronomical requirements.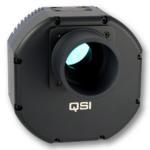 Specification
Full-frame 1.6 megapixel KAF-1603 sensor
Low noise, wide dynamic range
Up to 45°C CCD cooling
Built-in mechanical shutter
Available internal 5-position color filter wheel
Available integral Off-Axis Guider (OAG)>>
Available MaxIm LE camera control and image processing software
CCDSoft and MaxIm DL Drivers
ASCOM-compatible Windows API
Linux drivers and API
---
Return From QSI 516 To QSI 500 Series Main Page
Telescopes Home Page