The QSI 583 8.3mp Cooled CCD Camera sets a new benchmark for price performance in a scientific camera
The QSI 583 Cooled CCD Camera from Quantum Scientific Imaging, Inc sets a new benchmark for price performance in a scientific camera utilizing the 8.3mp Kodak full-frame KAF-8300 CCD image sensor with microlens technology.
The high quantum effectiveness, diverse dynamic range and low noise performance make the 583 perfectly suited to a vast array of demanding astronomical, scientific and industrial imaging applications.
The 583 scientific camera was made from the ground up to create the highest achievable imaging performance. Complex mixed-signal design practices are widely-used throughout the camera.
This allows an exceptionally compact design whilst eliminating interference from conducted and radiated noise. All QSI cameras demonstrate high sensitivity, the lowest possible noise, a linear response to light and accurately regulated cooling.
All significant performance characteristics, including Linearity, Read Noise, and Photon Transfer (Gain), are tested and confirmed during manufacture.
Seven different types are readily available utilizing an extensive collection of monochrome and single-shot color scientific grade CCDs. Many different alternatives and accessories are available to satisfy your astronomical demands.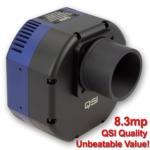 Specification
Exceptional build qualityQSI 583 w/CD-ROM
Precisely regulated cooling
Extremely power efficient - Powered by 12V DC
Even-illumination mechanical shutter with minimum exposure time of 30ms
Compatible with Canon and Nikon lenses
WSG compatible with SX Adaptive Optics system
All QSI 500 Series camera include a custom-fit Pelican™ case
Field upgradeable firmware
Robust, professional 32 and 64-bit drivers for Windows®, Macintosh and Linux
ASCOM and LabVIEW compatible Application Programming Interface
---
Return From QSI 583 8.3mp Cooled CCD Camera To QSI 500 Series
Telescopes Home Page